Software Update: Material Tracking and Cloud Slicing
There is a new software update available today that includes a number of exciting new features that will help enhance your 3D printing experience with Markforged.
Out of Material Warning
Before starting a print, the printer now will let you know if you do not have enough material to print your part.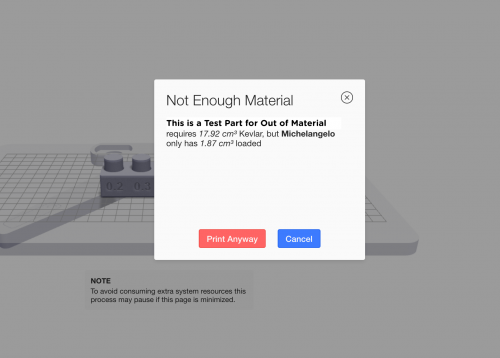 When you load your nylon or fiber, the load utilities will include a screen that asks "How full is the spool you're loading?". If the spool is full, select "Full Spool". If it is a partial spool, weigh the spool and enter the weight in grams to let the printer know how much material is available on the spool.
Before printing from Eiger, USB, or your queue, the printer will check that it has enough material left to complete the print. If it does not, it will show a warning.
Cloud Slicing in Eiger (for Enterprise Users)
We have enabled cloud slicing in Eiger for Enterprise users. This means slicing is faster AND you can continue to do other work on your computer while Eiger slices your part in the background.
In Eiger, there is a "cloud slicing" toggle (on by default), which you can use to switch back and forth between cloud and local slicing.
You can also queue parts to slice as soon as the current part completes.
For more information, check out the support page.
All of the blogs and the information contained within those blogs are copyright by Markforged, Inc. and may not be copied, modified, or adopted in any way without our written permission. Our blogs may contain our service marks or trademarks, as well as of those our affiliates. Your use of our blogs does not constitute any right or license for you to use our service marks or trademarks without our prior permission. Markforged Information provided in our blogs should not be considered professional advice. We are under no obligation to update or revise blogs based on new information, subsequent events, or otherwise.
Never miss an article
Subscribe to get new Markforged content in your inbox