Markforged at CES 2017: Breaking Grounds in High Strength 3D Printing
Here at CES 2017, we are one among thousands of tech companies showcasing new products. On display we have the many products we've released in 2016: the Mark Two, the Mark X, and the Onyx Series. Our booth is filled with displays of high strength 3D printing: a Ducati laden with strong 3D printed parts, lightweight carbon fiber drones, and many more demos. Since 2014, our printers have lowered the boundaries between idea and product by providing customers with affordable, functional parts overnight. Each of our materials present desirable engineering properties: impact resistance, high strength-to-weight ratio, and heat resistance, to name a few. Until now, our 3D printers have allowed customers to achieve metal-strength with continuous fiber reinforcement. Standing apart from our fiber reinforcement 3D printers at CES sits the newest addition to our high strength 3D printing portfolio: The Metal X.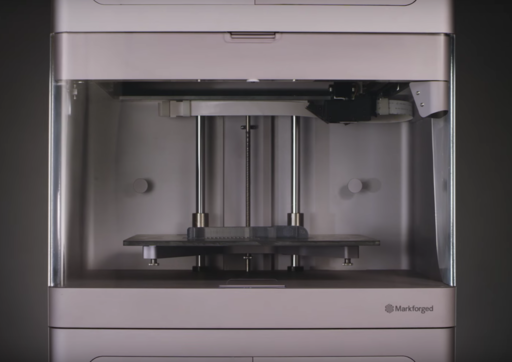 With the Metal X, we now add 3D printed metal to our ever expanding material portfolio. The Metal X is the first Atomic Diffusion Additive Manufacturing (ADAM) machine. Our machine prints parts layer-by-layer via a metal powder encased in a plastic binder. Once the printing is complete, the binder is removed and the part is sintered, erasing the layer-to-layer strength reduction common to 3D printed parts and creating isotropic metal 3D prints. The ADAM process is unique in that it makes metal 3D printing easier and more affordable than ever before, without the complex limitations of today's metal 3D printers and CNC machines.
Manufacturing high strength metals can have a long lead time, especially with complex shapes like injection molds and hard to manufacture materials like tool steel. The advanced functionality of the Metal X removes these engineering roadblocks, making manufacturing anything from injection molds to custom tooling easier than ever. If you're at CES, be sure to stop by and visit the Metal X at Booth 42138 at the Sands Expo. We hope everyone is having a great CES and we're excited to shape the future of manufacturing and production along with all of the other stellar technologies at the show!
For more information on the Metal X, contact us!
All of the blogs and the information contained within those blogs are copyright by Markforged, Inc. and may not be copied, modified, or adopted in any way without our written permission. Our blogs may contain our service marks or trademarks, as well as of those our affiliates. Your use of our blogs does not constitute any right or license for you to use our service marks or trademarks without our prior permission. Markforged Information provided in our blogs should not be considered professional advice. We are under no obligation to update or revise blogs based on new information, subsequent events, or otherwise.
Never miss an article
Subscribe to get new Markforged content in your inbox