SEMA 2016: 3D Printing Off to the Races
The SEMA (Special Equipment Manufacturing Association) Show is a yearly show featuring thousands of exhibitors in the automotive aftermarket. At the 50th convention in SEMA's history, the show's exhibits ranged from tire manufacturers to custom performance machine shops, and included a New Product Showcase featuring new equipment (including the Mark X) from many of the companies. At SEMA, Markforged represented an alternate method of producing custom high-performance parts for the auto industry.
In the automotive industry, many parts are machined out of aluminum for its strength to weight ratio. Select aesthetic components are often made out of carbon fiber because its impressive strength to weight ratio exceeds aluminum – The material is highly valued in the industry as a result. However, working with composites is expensive, tricky, and can often only be done with large sheet-based components like hoods and dashboards.
While none of our printers can feasibly fit a car hood on their print bed, our suite of industrial 3D printers and materials gives this crowd the agency to make traditionally aluminum parts out of composites. What this means is lighter, stronger custom parts, making the printer invaluable in the performance vehicle industry. As an example, we printed a foot peg mount for a motorcycle and compared it to the original. Our composite 3D printer can match the required strength at half the weight, and the part was personalized it for one of our customers, STS Turbo.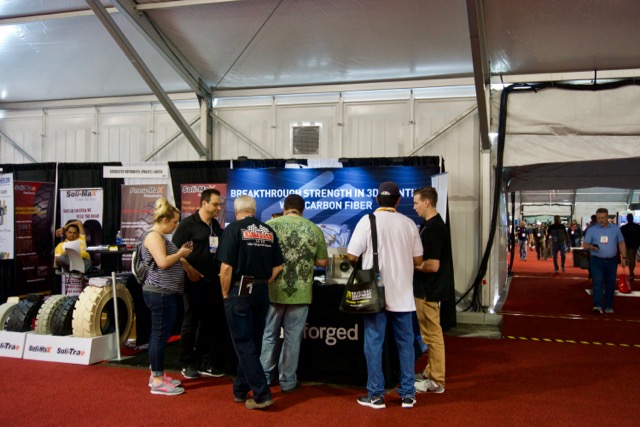 SEMA also served to demonstrate the importance of tooling: in the automotive industry, machining smooth surfaces for fluid or airflow can be difficult because of the time it takes to create work-holding for those components. With 3D printed work-holding tools that can hold up in a shop environment, machinists can expand and enhance their manufacturing capabilities without the tooling to machine complex fixtures.
Overall, we got a lot of enthusiasm from everyone who stopped by our booth at SEMA, and thanks to our team and resellers from Superior 3D Solutions who helped man the booth we had a great time!
All of the blogs and the information contained within those blogs are copyright by Markforged, Inc. and may not be copied, modified, or adopted in any way without our written permission. Our blogs may contain our service marks or trademarks, as well as of those our affiliates. Your use of our blogs does not constitute any right or license for you to use our service marks or trademarks without our prior permission. Markforged Information provided in our blogs should not be considered professional advice. We are under no obligation to update or revise blogs based on new information, subsequent events, or otherwise.
不错过任何一篇文章
订阅以在您的收件箱中获取新的 Markforged 内容