Markforged gets Committed at the Artisan's Asylum | Event Recap
Event Recap | October 23rd, 2015
Last Thursday, some of the MarkForged team brought a Mark One 3d printer and some parts over to Artisan's Asylum for their Thursday evening social night. The Asylum is a membership based maker space serving the tool, space and inspiration needs of Somerville, MA. This was a great event with a lot of sophisticated makers on hand asking good questions.
Before we got the projector and printer set up, the enthusiastic crowd at the Asylum was drawn to the printer.
Then we got started with an introduction from drew Wallace, MarkForged Marketer.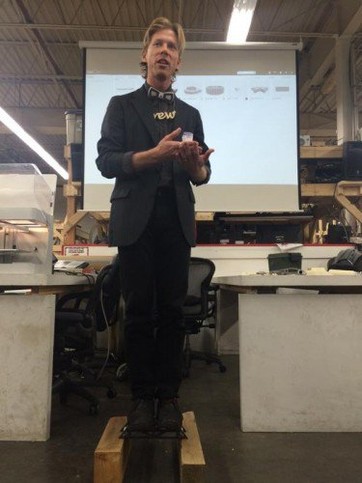 Yes, drew is standing on a carbon fiber and nylon bridge that was printed on a Mark One. we figured it would be the easiest way to show how strong the parts are, instead of telling people about their strength.
Here's a close up of our composite bridge, holding 168 pounds of drew (thanks Cullen and Maggie, for not killing drew):
After drew's introduction, Support Rockstar Tony Nutile spoke about the composites and when each is appropriate.
To summarize:
Nylon is great for checking form, fit and function of prototypes without a load
Nylon + Fiberglass is a good entry-level composite because it's strong and inexpensive, but heavy
Nylon + Kevlar (r) is suited to parts that need some flexibility or will sustain mechanical wear
Nylon + Carbon Fiber is best when you need the highest strength to weight ratio for the strongest parts
MarkForged makes the strongest 3d printed materials available today. Tony demonstrated this by also standing on the bridge, applying approximately two drew's worth of force.
Then applications engineer Nick Sondej demonstrated the MarkForged Eiger Software. Nick drilled down on some of the features most applicable to makers, including automatic composite sandwich panel creation, options for build supports and the level of granular control available over fiber routing in parts.
Finally, we had some pretty intense Q&A followed by a composite part petting zoo. The Artisan's Asylum makers had deep, relevant experience in 3d printing and didn't throw a single softball question our way. Nick and Tony were able to answer everything in turn.
Special thanks to Derek, Jess and Tom from the Asylum. We're also grateful to all the members who came out to see the Mark One. It was a great night and we appreciate your time.
All of the blogs and the information contained within those blogs are copyright by Markforged, Inc. and may not be copied, modified, or adopted in any way without our written permission. Our blogs may contain our service marks or trademarks, as well as of those our affiliates. Your use of our blogs does not constitute any right or license for you to use our service marks or trademarks without our prior permission. Markforged Information provided in our blogs should not be considered professional advice. We are under no obligation to update or revise blogs based on new information, subsequent events, or otherwise.
不错过任何一篇文章
订阅以在您的收件箱中获取新的 Markforged 内容