Part of the Week — MechEngineerMike's Composite Cable Clamp
Dan Topjian, Sr. Application Engineer at MarkForged likes to keep things neat and ordered. While cleaning up the shop, Dan decided a reinforced nylon and Kevlar® cable clamp was exactly what he needed. Figuring that someone else must have solved this problem already he went to Thingiverse and found the Ratcheting Cable Clamp by MechEngineerMike. The design is great - a good solution from the community.
This design is two pieces linked by a post. The MarkForged Eiger Software imported the two STLs from Thingiverse.
Adding Kevlar with the Click of a Button
Once the STLs were imported, Dan clicked the "Use Fiber" toggle and selected Kevlar. Dan selected Kelvar® because it would flex well as the clamp was opened and closed. Fiberglass and Carbon fiber would be stronger but would probably be too inflexible for this application.
The software automatically added two layers of fiber to make a sandwich panel. Dan decided to add a third layer of fiber to increase the strength of the clamp.
The Composite Cable Clamp in Action
The first of the two clamps is already at work in the shop. You can see it holding it's own here.
Specifications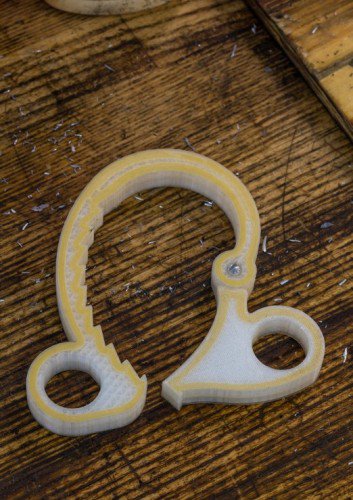 Composite Cable Clamp Part 1: Size 144.5mm x 85.72mm x 12.69mm; Estimated Print Time ~6h 33m; Nylon Cost $4.96; Carbon Fiber Cost $2.41; MFP Download
Composite Cable Clamp Part 2: Size 76.08mm x 59.17mm x 12.69mm; Estimated Print Time ~3h 31m; Nylon Cost $2.69; Carbon Fiber Cost $1.85; MFP Download
STL Download available on Thingiverse
All of the blogs and the information contained within those blogs are copyright by Markforged, Inc. and may not be copied, modified, or adopted in any way without our written permission. Our blogs may contain our service marks or trademarks, as well as of those our affiliates. Your use of our blogs does not constitute any right or license for you to use our service marks or trademarks without our prior permission. Markforged Information provided in our blogs should not be considered professional advice. We are under no obligation to update or revise blogs based on new information, subsequent events, or otherwise.
Never miss an article
Subscribe to get new Markforged content in your inbox