Part of the Week — Carl Calabria's Composite Featherboard
Carl Calabria in a renaissance man. In addition to being a Senior Vice President of Engineering at MarkForged and an excellent photographer, he's a woodworker. Carl's shop features a combination of standard equipment and customized solutions of his own creation.
One problem Carl solved with a 3D printed solution was creating a magnetic featherboard. Traditional, mitre slot attached featherboards weren't flexible enough for Carl. He knew the best possible featherboard would be a magnetic version that could be easily moved and reset.
CAD Model Created in OnShape
Carl used OnShape to CAD his dream featherboard. The 7.25 inch long board is sized to fit his table saw while providing enough surface area to control workpieces. Each side is feathered, allow it to be used on other equipment, like a stationary router and bandsaw.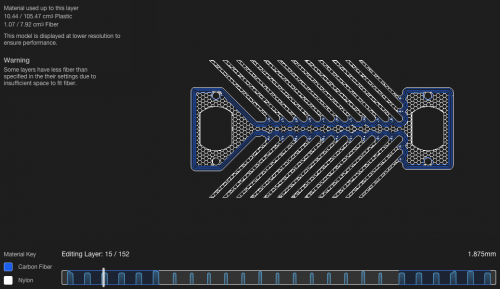 Printing the Tool in Nylon and Continuous Strand Carbon Fiber
The featherboard is printed in nylon with 16 layers of carbon fiber reinforcement. The continuous carbon fiber is concentrated in the middle of the board for maximum stiffness. The feathers are all pure nylon to allow them to flex against the workpiece; this also maintains force as the wood moves through the saw.
The hardware are two Magswitch magnetic jigs from Rockler Woodworking. When turned, the two knobs engage the magnets and hold the board in place. This makes it a very efficient and flexible tool, while also making it easy to store. Carl just engages the magnet and it holds in place on the side of a tool cabinet.
Specifications
Carl Calabria's Magnetic Featherboard
Size 183.75mm x 96.41mm x 19mm; Estimated Print Time ~22h 8m; Nylon Cost $23.20; Carbon Fiber Cost $12.67; STL Download
All of the blogs and the information contained within those blogs are copyright by Markforged, Inc. and may not be copied, modified, or adopted in any way without our written permission. Our blogs may contain our service marks or trademarks, as well as of those our affiliates. Your use of our blogs does not constitute any right or license for you to use our service marks or trademarks without our prior permission. Markforged Information provided in our blogs should not be considered professional advice. We are under no obligation to update or revise blogs based on new information, subsequent events, or otherwise.
새로운 정보를 놓치지 마세요
Markforged의 최신 컨텐츠를 편지함으로 받으시려면 구독하십시오.