Competitive Edge
Hands-on experience with Markforged industrial 3D printers will give your students a competitive edge once they graduate.
Safe and Affordable
Most high-end, industrial 3D printers are costly and not safe for student use. Our printers are easy to use, safe, and affordable for educational institutes — from the classroom to the lab.
Special Pricing for Education
(Limited Time Offer)
details
Testimonials from Universities

Purdue University
"It's apparent that the industry is pushing very hard on developing and maturing metal 3D printing, and we are too. Our students, our professors, the university in general, and the world are all talking about 3D printing."
-David McMillan, Assistant Director of Innovation Design Center
Oklahoma State University
"What you can get away with in additive manufacturing, you can't quite do the same with subtractive manufacturing. So, our job is to teach them both, and teach them that exchange between both of them. I don't want to brag, I think we do a decent job at it."
- Brad Rowland, ENDEAVOR Manager of Operations
Rochester Institute of Technology (RIT)
"The students coming out of here — be it from the 3D printing class or working in the AM Print center — are at a great advantage with the practical hands-on experience that they've gotten with the machines and the materials and the design tools that go along with those processes."
- David McMillan, Assistant Director of Innovation Design Center
University of Technology Sydney (UTS)
"UTS being the first university in Australia to have a Markforged Metal X is exciting. So, we have researchers lining up, and we have students really, really, interested in using the technology. We're excited to see what they can develop with the machine, and kind of push that machine as hard as they can early on."
- Jon O'Neill, UTS ProtoSpace Manager
Saskatchewan Polytechnic (Sask Polytech)
"The value of this type of equipment to students is obviously learning new technology, but then the application of it and learning how to design for additive, which is different than traditional manufactured parts, there are different things that additive can do."
- Tim Muench, Mechanical and CAD/CAM Engineering Technology programs, Head of Programs
Olin College of Engineering
"We're really happy to have the Markforged and we'd like to keep working with it, pretty much forever, at this point. Every time I think we've figured out how to use it, some student will come in with a brand new idea to use the device in a way we never thought."
- Drew Bennett, Professor of Robotics

3D Printers for Education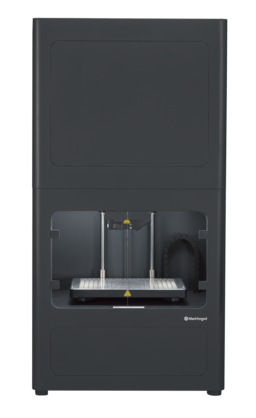 Safe and easy to use metal 3D printer

Teach students 3D printing for manufacturing, not prototyping 

Entry-level carbon fiber 3D printer, 23x the strength of PLA/ABS

If you're ready to talk with a Markforged additive expert to explore where 3D printing technology may be a good fit for you, contact us to start the conversation.